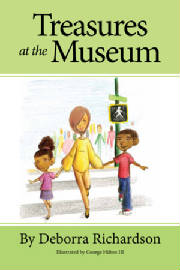 Treasures at the Museum by Deborra Richarson, Chair, Archives Center, Smithsonian Institution Museum of American History. September 2011. $5.99. ISBN: 978-0-9824945-1-6. 64 pages.
Aunt Imani comes to take Robbie and his sister, Brittany, to visit a museum and its Archives Center. Robbie doesn't want to go. He thinks it will be boring. Then Aunt Imani shows him how he already created his own archives by hiding his treasures in his tree house. Now both Robbie and Brittany are excited! They even get to bring along some family photos and other treasures. They learn more about their family history and American history as they travel downtown. At the museum, Robbie and Brittany discover a lot of fun exhibits on their own. But, they feel really special when they take a behind-the-scenes tour of the Archives Center with Maxi, Aunt Imani's friend. Maxi helps them preserve their treasures just like she does it at the museum. Robbie and Brittany learn that they make history every day!
Treasures at the Museum is an easy reader chapter book. It should appeal to children from grades K-4. It is written to get children interested in learning about and, more importantly, creating and preserving family, local, and regional history. There is an activities section in the back of the book for hands-on learning.
Purchase Treasures at the Museum by Deborra Richardson, $5.99, direct from The Elevator Group.
Read a digital galley at www.NetGalley.com.
"Richardson gives children a glimpse at the inner workings of the Museum archive in a story packaged to appeal to children....Treasures at the Museum is educational and fun to read to kids."--A Frugal Life
Read full review at A Frugal Life
"an engaging story...The 'Activities' section provides many fun and educational hands-on projects...an excellent chapter book to introduce young readers to an area of museums they hardly ever get a chance to see--the Archives." --Linda Maxwell, Museum Educator