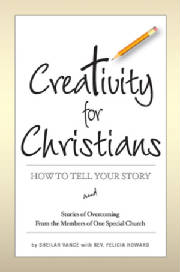 Creativity for Christians™: How to Tell Your Story and Stories of Overcoming from the Members of One Special Church by Sheilah Vance with Rev. Felicia Howard. September 2010. From The Elevator Group Faith imprint. $15.95. ISBN: 978-0-9820384-2-0.
We are made overcomers by the blood of the lamb and the word of our testimony. (Rev. 12:11.) Everyone has a story to tell. Learn how to tell yours. Creativity for Christians is designed to be used by individuals or churches as a transformative and bonding experience. The first half of Creativity for Christians is a writing workshop, teaching the reader how to write her personal testimony and story of overcoming through a series of writing exercises and writing advice. The second half of the book contains stories written by members of the authors church who participated in the workshops. Their personal stories of overcoming all types of situations will strengthen and encourage readers by showing them what God can do. The reader will also see that sharing stories, even if only with their fellow parishioners in a church wide or church group project, will bring them closer together and strengthen them as a church.
Contributing Authors: Ernest L. Asbury, Jr., Yvonne D. White, Bernard "Scooter" Jackson, Nicole White, Bernadine L. Clark Benjamin, Sylvia Thornton, J. Donald Jackson, Jr., Carmen Cary, Harry White, Bea White, Lois Savin, and Joe Raines
Creativity for Christians blog
Praise for Creativity for Christians
"The innovative publication of this insightful reflective study presenting personal reflections opens the realm of self-expression for a whole new category of writers. It sets the stage for individuals to discover creative facets of their history, personality and story-telling capacity. The unlocking of this important avenue of spirituality gives new dimension and depth of possibility of expression that might otherwise remain hidden and untapped. [The authors] have created a most helpful tool for self expression. This publication embraces the story telling history and tradition of African American people. What a wonderful creative tool for expression and preservation of the story and personal legacy. "--The Right Reverend Richard F. Norris, Presiding Prelate, First Episcopal District, AME Church
"Creativity for Christians" is a must read for all AMEs and other Christians who love the Lord and have a testimony to tell. Sheilah Vance the author starts the book with her own personal testimony about how God brought her through a very rough time in her life and marriage. She follows with step by step instructions on how to write your own testimony. Finally she includes several testimonies from members of her own church that attended her writing seminar. I have been so amazed by this book that I plan to personally attend one of her writing seminars.--Rev. Dr. Charles H. Lett, Sr., Presiding Elder, West Mainline District, Philadelphia Annual Conference

Dear Elevator Group:
I picked up your book, Creativity for Christians, at the Book Expo of America and read it on the plane home. You are all incredible people!
Not only have you put together valid and valued advice to help a person put their story together, but in a way that is honest, down to earth and not "preachy."
However, in this process, you've shown me something that I myself should have done a long time ago -- tell my story. This is something I've shied away from for many reasons and, yes, embarassment is a strong excuse to hide behind.
As I read the book, I saw myself mirrored in the pages of so many of the experiences, and even found myself crying while surrounded by people because of the power behind the faith that you all shared. Your group not only has faith...you LIVE it! you all are an inspiration, and I hope you all great success in getting your message out.
Sincerely,
Janice Grove (author, www.janicegrove.com)
Reviewers/media: view copies of Rejected for a Purpose and Creativity for Christians at www.NetGalley.com