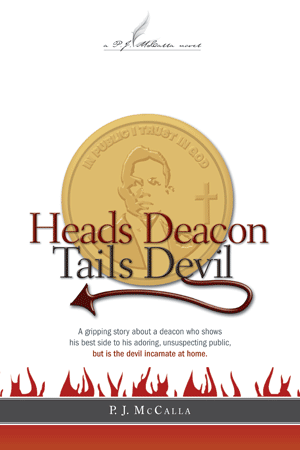 Click here to read Chapter 1 from Heads Deacon, Tails Devil
Heads Deacon, Tails Devil by P. J. McCalla (October 2009) Trade Paperback ISBN 978-0-9819719-9-5; $15.95
Set in a small town in the early 1900's, Heads Deacon Tails Devil is the story of Robert Grant, an elementary school teacher and long-standing deacon and spirit-stirring soloist at Nazarene Baptist Church, who shows his best side to his adoring, unsuspecting public, but is the devil incarnate at home. Rachel Grant, who, as a young woman, married Robert against her mother's advice and was sorry for it from her wedding night on, tries her best to shield herself and her five children from Robert's devil side. But, Rachel's strong and wise mother, Mom Maggie, has to step in. With her prophetic gifts, cunning and mother-wit, Mom Maggie fights Robert every step of the way and tries to give her daughter and grandchildren a happy, normal life. As he becomes increasingly frustrated with his ability to control his family and his life, Robert's devil side grows stronger, and Rachel and the children suffer horribly because of it. Blaming Rachel, the children and Mom Maggie for anything he doesn't like about his life, Robert turns to other women to ease his mental and physical needs. As Robert tries to destroy one life in hopes that another will satisfy him, Mom Maggie and Rachel plan to show Robert that the devil is a liar.
PRAISE FOR HEADS DEACON, TAILS DEVIL
"Heads Deacon, Tails Devil is an incredibly intense novel. Knowing that the main characters were based upon real people related to the author, and that some of the story was based on true events, greatly increases the drama and suspense. As I read the story, I hoped and prayed that the man that Robert was based upon was really not as bad as the devil in the book. McCalla wrote her story in a manner that could easily convince me that he was. That is the scary part. Having dealt with women who have been in abusive relationships really opened my eyes to how difficult it would have been for women back in this time. There were no restraining orders, easy-to-get divorces, welfare or women's shelters. Even in our times today, it is very difficult to get an abusive man out of your life. This story really made me reflect on how hard it would have been to be in this time, especially when women had less rights. Because of this, evil men were probably even worse back in those days because they had less to stop them. McCalla really hit this issue on the head with her story. I think that readers will find it very eye opening and in spite of the harshness of the story, they will appreciate the relationshp that Rachel has with her mother and her children. I highly recommend Heads Deacon Tails Devil by P. J. McCalla."--Reader Views.com
5 out of 5 stars. "Hypocrisy is always most vicious to those near the hypocrite. 'Heads Deacon, Tails Devil' tells the story of a small town, who have come to adore Robert Grant, a religious leader. But Grant hides a much more demonic interior than he shows his town and congregation, but even when you try your best, you can't hide your dark side forever. 'Heads Deacon, Tails Devil' is a curious and highly recommended story not to be missed.--Midwest Book Review/Small Press Watch
"Heads Deacon, Tails Devil grabbed me from page one. Whether the characters made me root for them, sympathize with them, question their motives and their actions, or hate them, there were enough plot twists to make me keep reading. I couldn't wait to find out what happened to innocent Rachel and her children, strong Mom Maggie, and devilish Robert." —Sheilah Vance, author of Land Mines and Chasing the 400
Full text of Reader Views review of Heads Deacon, Tails Devil
"...an engrossing tale. ...This story was heart-wrenching and almost had me in tears....An excellent debut novel! "--OOSA Online Book Club
Click here for full text of OOSA Book Club review
Hear P. J. discuss her novel with Carolyn Firestone, Women's Watch, WBZ-Boston.
| | |
| --- | --- |
| | Purchase Heads Deacon, Tails Devil in trade paperback, $15.95 plus shipping and handling, from The Elevator Group |
Look for P. J.'s next novel, Cousin Myrtle, in October 2010!
Click here to purchase Heads Deacon, Tails Devil from an independent bookstore.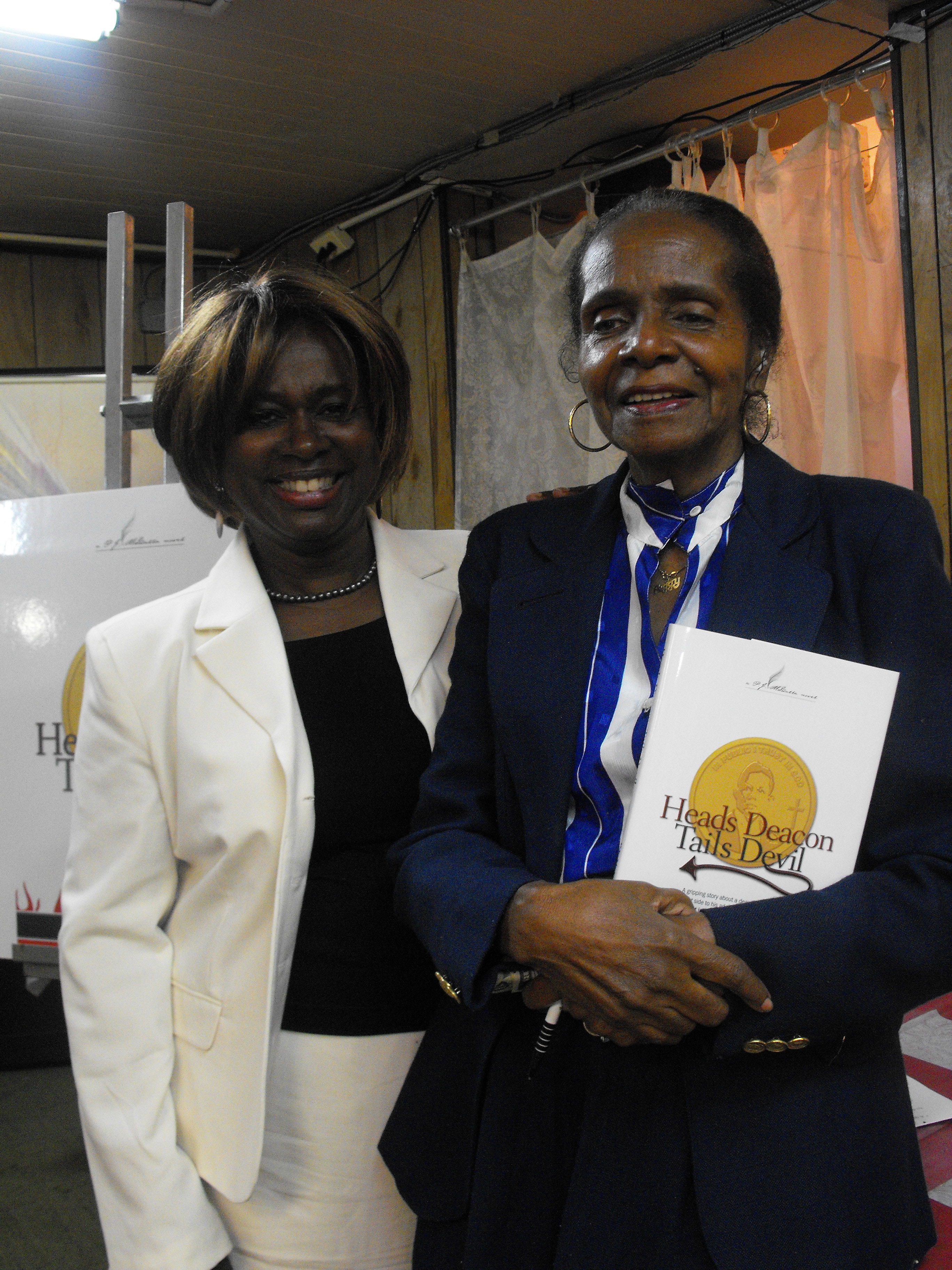 P. J. McCalla, (l) author of Heads Deacon, Tails Devil, at her book launch, Oct. 3, Mt. Zion AME Church, Darby, PA, with Elizabeth J. Fisher, author, Dining with the Dollar Diva (March 2010)