"I wrote Chasing the 400 with short, fast-paced chapters to appeal to readers like me--hard-working and busy people who collapse in bed at the end of the day, eager to read an upbeat book about characters they can root for, and equally eager to feel that they've accomplished something for themselves by reading at least one chapter." --Sheilah Vance.
Praise for Chasing the 400:
"Sheilah Vance is a fresh, humorous and necessary voice with great insight into human nature, class struggles, and what it takes to chase your dreams."
--Benilde Little, author of Good Hair, The Itch, and Who Does She Think She Is
"The tale that unfolds is full of laughs and good times....If you are looking for an upbeat novel to relax with after a stressful week at the office, Chasing the 400 is the book for you."--Idrissa Udquah, African American Literature Book Club; see the full review at
http://www.aalbc.com/reviews/chasing_the_400.htm
"Chasing the 400" is an interesting glimpse into a period of American history that cannot be ignored. It examines the motivations, struggles and successes of the people who lived and dreamed during the fight for racial equality. You will find yourself rooting for Vera and applauding her courage and confidence while wincing sometimes at her methods and attitude. She is a saucy character who makes the reading of this fascinating novel that much more enjoyable.

"I couldn't put Chasing the 400 down. I adored Vera and Bobby, and traveling back in time into a world I knew nothing about, yet what I loved best was how this novel made me think: about being black or white, about how we decide what is right and what is wrong, about how our lives unfold through our choices. This is a book to share with all your literary friends."
--Jennifer Louden, author of The Life Organizer and The Women's Comfort Book
"I finished the book a few weeks ago….FANTASTIC!!!!!!

This honestly should be a movie.

As I was reading the story, I felt as if I was in the scene with the characters.

As they were in the bars, I could feel the smoke and the atmosphere.
As a fashion designer, your consistency and detail to the timely fashions, color palettes, shoes, hats and, especially the hairstyles, were an added bonus for the characters.
I will highly recommend this book to my reading group."
Ashton Hall – Excel Fashions, Inc.
"I just finished Chasing the 400 and I absolutely loved it! It was great
from cover to cover. Can't wait for your next book!"--T. D.

"The moment I opened and read the first few pages of your book, I was encaptured and couldn't put the book down until I finished it the next day. Not being from Philadelphia, I was curious about the historical context of the '400'. Thank you so much for sharing your experiences in this entertaining fictional story. "--J.P.
"I just finished your book that I bought Saturday at the AKA Fashion Show. I
loved it: Women's Lit, Family Values, Education, Work Ethic, Morals, And
Love. Great Novel. I will pass it on."
--Starr Mercer-Horne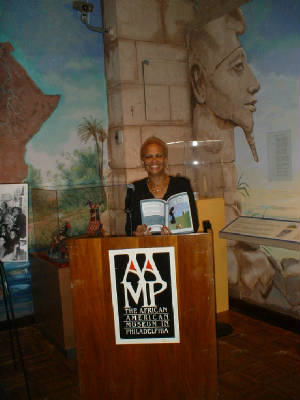 Sheilah Vance reads from her novel, Chasing the 400, which was the first selection of the African American Museum of Philadelphia Book Club, at the book club kickoff in September 2007.
Available to libraries and the book trade through AtlasBooks Distribution/Bookmasters, Baker & Taylor, and Ingram.